The Economist, a mainstream British publication, declared 2019 the "Year of the Vegan"; Innova Market Insights predicted that 2019 would be year of the plant kingdom, and vegan would be one of the most popular trends this year. At this point, the whole world has to admit that vegetarianism has become the mainstream of life style worldwide.
According to the Economist, "A quarter of Americans aged 25 to 34 (millennials) claim to be vegans or vegetarians". At the same time, the number of vegetarians around the world has increased with each passing day, vegetarians in the United States, Germany, Britain, Italy, Switzerland and China account for 10% of the world's population, or about 700 million people, who are vegan or vegetarian.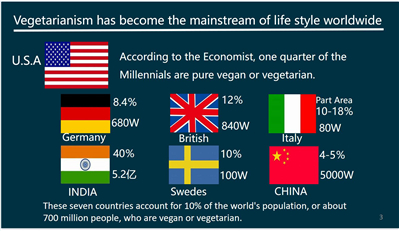 The market is following the trend led by vegetarians worldwide. Food giants are investing in products that replace animal protein. Large food companies either launch their own vegan product line, acquire start-ups, or do both at the same time. McDonald's, KFC, Burger King have gradually launched vegan burger products, Unilever Group launched its own vegan ice cream, Nestlé launched its own plant protein products. Minitel Global Database shows that
Consumption upgrade.
Meanwhile, in the premium market, the upgrading of consumption and the enhancement of public health awareness, the greener and safer pure plant starch capsule will become a better choice. Plant capsule only meet meets health lifestyles but also lifts religious restrictions, which benefits 1 billion Hindus, 600 million vegetarians, 1.6 billion Muslims and 370 million Buddhists.
Compared with traditional gelatin capsules, the advantages of plant capsules are more obvious:
1.Natural & Health: made from plants; certified by Non-GMO, Halal Kosher and Vegsoc
2.Safety: No pesticide residues, No carcinogen residues, No chemical additives, No chemical additives, No virus risk, No cross-linking reaction.
3.Appearance & Taste: Better thermal stability Natural plant fragrance
4.Embrace Vegetarian Era: A compatibility with a broader range of fill excipients, enhancing bioavailability and stability
It can be seen that in the future, businesses that have the courage to innovate in technology and open up new markets will surely usher in new developments in the industry. The emergence of plant capsules not only brings a blue ocean with great potential to merchants, but also a bright way for merchants to implement their social responsibilities and benefit the society.
Sources:
https://www.forbes.com/sites/davidebanis/2018/12/31/everything-is-ready-to-make-2019-the-year-of-the-vegan-are-you/?sh=695b838657df
---
Post time: May-06-2022